---
Roger Poitras' method of instruction is a combination of several disciplines:
The Alexander Technique
Soma Neuromuscular Integration
The Feldenkrais Method
Centered Riding
Roger Poitras riding Alyondro in the
dressage ring at West River Stables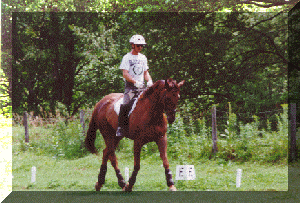 These disciplines have been brought together into the following elements: Hands-on body work to aid the rider in awareness of tensions in the body and in releasing those tensions. Body alignment for proper balance. Flow of energy in the development of form and movement.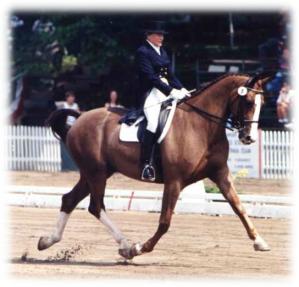 Visualization for freedom of mind and body.
The resulting effect is the body understanding, energizing and communicating with great clarity.
Jane Ashley with Caureus
Jane is available for clinics by appointment at West River Stables.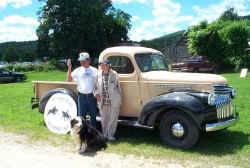 THE NEWBROOK HORSE SHOW
Established in 1941, the Newbrook Horse Show is held for the benefit of the Newbrook Fire Department. It is one of the oldest continuously-run horse shows in New England. Pictured here is Helen Barnes, who has attended every show since WWII, many as a competitor.

The truck is a 1941 Chevrolet, built the same year the show was founded.
---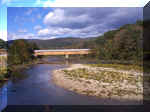 The unique round school in Brookline and covered bridges along the West River provide beautiful views. Make sure you bring your camera!
---
For more information on lessons, boarding, or training, contact Roger Poitras at:
roger@westriverstables.com

You can also write or phone him at:
West River Stables at Meadowbrook Farm
Hill Road - Brookline, Vermont 05345
802-365-7668 9