2008 AIRSHOWS
2008 SAN FRANCISCO FLEET WEEK
The Blue Angels and Snowbirds over San Francisco Bay on a beautiful Columbus Day weekend.
2008 NAS OCEANA
The biggest and the best airshow on the east coast.Lots of F-18 Hornets and Super Hornets, the Blue Angels, E-2C Hawkeye, Patty Wagstaff and more.
2008 MACDILL AIRFEST
An historic show with three F-104 Starfighters in the air, plus the Snowbirds, F-18 Super Hornet, Strike Eagle, F-4, P-51, Tim Webber, Her & Ditto and more!
LAKEATHON 2008
While the number of civil aviation airports declines each year, there are plenty of lakes, rivers and bays that can be used by owners of amphibious aircraft like the Lake LA-4. The group came to Bartow Municipal Airport as part of their annual gathering.
2007 AIRSHOWS
MAC DILL AFB SHOW
Blue Angels, F-104 Starfighters, F-15, F-16, F-86, P-51, KC-135, T-6, B-25, F-22
TICO WARBIRD MUSEUM
Lots of warbirds plus the F-104 Starfighter. B-25s(3), F-86, F-15 Strike Eagle, F-16, T-6, T-28, and lots more!
WINGS AND WHEELS - TETERBORO, NJ
Wings and Wheels is an expo and fundraiser sponsored by the Aviation Hall of Fame and Museum of New Jersey
BLUES ON THE BAY- KANEOHE BAY, HI
The Blue Angels in paradise at Marine Corp Base Hawaii, Kaneohe Bay
ST PETERSBURG AIRFEST-ST. PETE, FL
The St. Petersburg Airfest with John Mohr, Skip Stewart, Jim Maroney and Fred Cabanas
AVIATION NATION - LAS VEGAS, NV
Featuring the Air Force Thunderbirds, F-22 Raptor, F-117 Stealth, B-52, B-24, B-25s, B-17 and lots more.
2006 AIRSHOWS
MAXWELL AFB
Featuring an emergency landing by Wyatt Fuller in his F-86
AVIATION NATION
The first CV-22 Demo and a Dutch Viper topped off by The Thunderbirds!
NYC FLEET WEEK
Parade of planes and ships up the Hudson River
WILLOW GROVE JRB
A close up view of the show with some nice fireworks
WINGS OVER VT
The Air Force Thunderbirds over Lake Champlain
NAS OCEANA
Celebrating the 60th Anniversary of the Blue Angels and a final show by the F-14 Tomcats of VF-31
ST. PETERSBURG AIRFEST
A Salute to the US Military at a beautiful location on Tampa Bay in sunny Florida
NAS JACKSONVILLE
A salute to the Blue Angels at the base where the demonstration team was founded in 1946
Airshow Reports and News
2013 TICO WARBIRD AIRSHOW IS FINAL SHOW FOR THE THUNDERBIRDS
March 22, 2013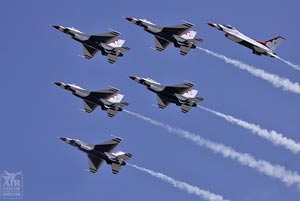 With a blue sky, the Air Force Thunderbirds flew what is likely to be their only high show of the year during the Friday "practice show" in Titusville. Bad weather on Saturday and Sunday limited the team to a low show. The show began with the TICO Belle, a veteran of the D-Day landings, flying to 5,000' to drop the skydivers who would start the show. Mike Gouilan flew circles around the jumpers. Once they were on the ground, the show continued with a mock dogfight between a Fokker tri-wing and a Sopwith Camel. Next came the WW II aircraft featuring B-17 "Chuckie", P-51 "The Rebel" and B-25 "Killer B". Dozens of trainer aircraft followed in a sky full of aircraft. Next came a performance by a Navy A-4 Skyhawk followed by Rick Svetkoff and General Steve Ritchie in the F-104 Starfighter. Matt Younkin thrilled the crowd by performing aerobatics in a twin Beech. The Thunderbirds ended the show by flying in from Patrick AFB. They performed a high show that thrilled the crowd. It is a shame that the team has canceled all other performances for the year, including their home show at Nellis AFB. Click on the photo of the Thunderbirds for more images from the show.
FLEET WEEK SHOW THRILLS CROWDS IN SAN FRANCISCO
October 13, 2008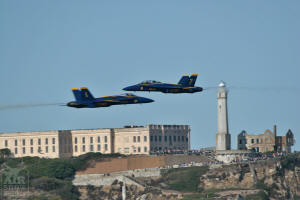 There are few airshow locations with the beauty of San Francisco Bay. 2008 brought a rare combination of the Blue Angels and the Canadian Snowbird jet teams. When you add in the Patriots in their four L-39s and the Viper West team, you have an outstanding show.
This year's show was held on Columbus Day weekend and many visitors flocked to San Francisco's North Beach area for a parade and some delicious Italian food.
A gallery from San Francisco Fleet Week 2008
NAS OCEANA AIRSHOW IS FIRST CLASS
September 23, 2008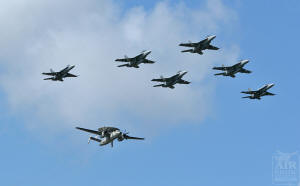 We are frequently asked the question, "if you could only attend one airshow, which one would it be?" That's easy. NAS Oceana. Just leave enough time to recover from the full schedule of activities. The weekend begins with a practice show on Friday that is open to military families and the media, then the gates open to the public at 5 pm for a night show. That show ends with a spectacular fireworks display before many people head to the Officer's Club, which is open to the public. On Saturday, there is a day show featuring top military and civilian performers. At night, there is a beach blast with parachute jumps and an F-18 Hornet making some high-speed afterburner passes that light up the sky. After another show on Sunday, you will need a week to recover. Congratulations to Corkie Erie and his staff for a wonderful job again this year.
A gallery from the 2008 Oceana Airshow
STARFIGHTER THREE SHIP SHOW DEBUTS AT MACDILL AIRFEST
May 2, 2008
From 1959 to 1968, the F-104 Starfighter was on the front line in the cold war, and some hot conflicts over Vietnam. The plane set numerous speed records and remained in service in Europe until a few years ago. Sadly, only a few aircraft remained flying. Rick Svetkoff started his Starfighter team in 1995 and dreamed about having a three ship demonstration. The Saturday show at MacDill marked the first flight of three Starfighters at a U.S. airshow in nearly 40 years. Congratulations are in order for the entire Starfighter team. Visit their website at www.Starfighters.net
LAKEATHON 2008
February 13, 2008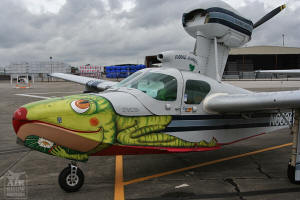 You can't find a nicer group of people than the Lake Amphibian Flyer's Club. Each year, the group comes together for a fly-in at a Central Florida location. Owners, pilots and enthusiasts are welcome to attend with club membership. This year, they gathered at Westgate River Ranch near Clermont before heading down to Bartow Municipal Airport for seminars and a buffet lunch. You can visit the group's website at: www.LakeFlyers.com
AVIATION NATION CELEBRATES 60 YEARS OF THE U.S. AIR FORCE
November 10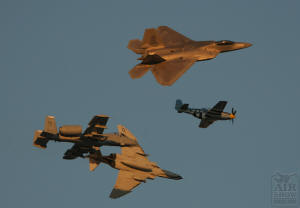 Aviation Nation at Nellis Air Force Base in Las Vegas is always a great show. It attracts some of the largest crowds of any airshow in the United States. This year was special with performances highlighting aircraft from World War I, World War II, the Korean and Vietnam conflicts, and the modern era. The Air Force Thunderbirds, based at Nellis, put on a nice performance for the home crowd but the star of the show was Major Max Moga flying the F-22 Raptor doing maneuvers that are impossible on virtually any other fixed wing aircraft.
A gallery from Aviation Nation 2007

ST. PETERSBURG AIRFEST - THE BIGGEST LITTLE AIRSHOW
October 21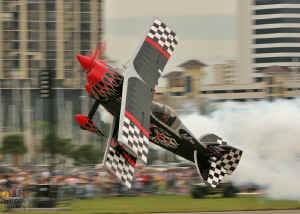 We look forward to the St. Petersburg Airfest each year because it is lots of fun for the whole family. You can drop the kids off at Camp Victory and watch how they do in a simulated boot camp. There are a lot of hands on exhibits that are fun for children and adults alike. When the flying begins, it is up close and easy to see with Tampa Bay providing a beautiful backdrop. If you missed the show this year, you may want to plan your vacation to St. Petersburg around this show in 2008. Dave Thompson and Rich Castle do a wonderful job each year.
A gallery from the St. Pete Airfest
BLUE ANGELS WOW BIG CROWD AT KANEOHE BAY, HAWAII
October 14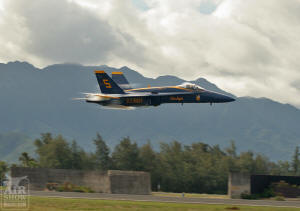 The Blue Angels made the long trip from San Francisco to Marine Corp Base Hawaii in Kaneohe Bay with the help of a KC-10 from Travis AFB. A big crowd estimated at 70,000 packed the base each day to watch the Blues, Patty Wagstaff, Jill Long and others. The Marines put on a nice tactical demo with pyro that the crowd loved. Tim Weber gave a wonderful show in his Extra 300 and was nice enough to let Patty Wagstaff use his plane for her show which included her patented inverted ribbon cut. Mahalo to Airshow Director Bob Farrow for putting on a great show.
A gallery from the Blues On The Bay Airshow
YANKEE LADY IS A STAR AT WINGS AND WHEELS
September 16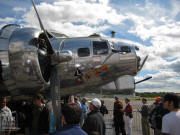 The Yankee Air Force Museum's beautiful B-17G, Yankee Lady, was the star of the Wings and Wheels Show at Teterboro Airport in New Jersey on September 15th and 16th. The show is sponsored each year by the Aviation Hall of Fame and Museum of New Jersey, which is based in Teterboro. In addition to Yankee Lady, there was a DC-3 and C-54 on display. Teterboro is rich in aviation history. Amelia Earhart practiced at Teterboro before many of her record-setting flights. In the 1930s, it was the busiest airport in the world. It remains busy today, with private and commercial aircraft. Take a look at our video on YouTube, or download it from the link below.
A gallery from the Wings and Wheels Show
A close-up video of Yankee Lady at Teterboro (24mb)
Take a look back at the 2007 Airshow Season
Do you like the F-14 in our banner? You can see a gallery of Tomcat photos here.